Central Florida 4-Point Insurance Inspections
What is a 4-point (four-point) insurance inspection?
A 4-point insurance inspection is often times a requirement when obtaining a new homeowners insurance policy or renewing an existing policy for houses that are 25-30 years or older in the Central Florida area. This age range is not a "hard-rule" and we have seen insurers request these inspections on houses 5 years and older. The insurance agent or company sets the requirements and they will notify you if this additional report is needed.
This 4-point insurance inspection includes a limited scope evaluation of the following four systems:

Roof

Electrical System

HVAC System

Plumbing System
The inspections' purpose is to determine the components, general condition, and age of these systems. The Insurance Company will typically require that the inspections be performed by suitably licensed and qualified persons. Check with your insurance company to see if our professional qualifications are acceptable.
What is a 4-point inspection report?
The actual report type is dependent on your insurance company. Homeowner's going with State Farm will need their reports filled out on a specific State Farm 4-point inspection report. Many other insurance companies accept the Citizens 4-point inspection form. We also have a standard form used for other clients. Please let us know who your insurer is and what form they would like the report on so we can get it right the first time.
What is the difference between a 4-point & a wind mitigation report?
The 4-point is used to gain insurance and looks at the main 4 parts of the house; roof, plumbing, electrical & HVAC. The wind mitigation report is used to help lower your insurance premiums and only looks at the roof and attic. We have not heard anyone get denied insurance based on a unfavorable wind mitigation but we have had clients get rejected for homeowner's insurance based on a unsatisfactory 4-point report.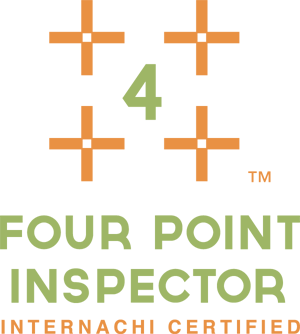 How can I pass a four point insurance inspection?
Because we will be inspecting the roof, plumbing, electrical and HVAC, these all need to be in satisfactory condition.
For the roof, insurers typically want to see 5 years of life left on a roof. Also, no major damage, defects, leaks or other issues that could lead to a claim down the road.
For the plumbing system, they want to see good condition supply & waste piping. No defective products such as polybutylene, older style PEX plumbing, old galvanized piping, water leaks and/or unsafe or improperly installed equipment such as water heaters.
For the electrical system, insurers want to see safe equipment with no major brands of defective electrical panels such as Federal Pacific or Zinsco panels. Aluminum wiring is typically a no-go for insurers along with other safety/fire issues like double-tapped breakers, improper wire splices, unsafe outlets, etc.
For the HVAC system, the insurance company wants to ensure they are functional, not leaking moisture and have some life expectancy left. Leaking or backed up air handlers are a common cause of expensive water damage claims.
Notes/Comments:
Insurance inspections should NOT be confused with or used in place of a standard home inspection which covers significantly more aspects of the home and is conducted in a completely different fashion. For more information on finding out which service is right for you, please talk to one of our inspection specialists.
Requirements for insurance companies may exclude some of the systems of a 4-Point Inspection. Often, all that is required is the evaluation of a specific system of the house, such as the roof, electrical system, or a limited combination of systems. When calling to book the inspection please inform us if this is the case and which systems should be evaluated. The pricing may be adjusted based on this fact.