Central Florida Swimming Pool Inspections
CFBI proudly offers pool inspections as an upgrade service during your home inspection or as a complete stand-alone inspection service. Please see details and commonly asked questions below to decide what type of service would work best for your situation. We are always available to answer any questions regarding your Orlando/Central Florida area pool inspection needs.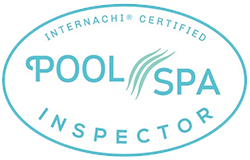 What is a pool inspection?
A pool inspection is a visual inspection of various components that make up your in-ground pool or spa system. We will write up a special report with digital photos and findings based on our inspection. During a visual pool inspection, we do not enter the pool to perform up close evaluations of the pool surfaces below the waterline. We inspect the following items during the course of your pool evaluation:
The Plumbing
Filters
Lights
Adjoining structure as it relates to the pool or spa;
Valves
Solar heating system
Pumps and motors
Electrical system
Filtration system
Pool or spa heater
The safety barriers and devices
What are the local safety requirements for a pool?
Every state varies and it can even vary depending on local municipality requirements however there are some standard safety items that every Florida pool should have:
Pool cover or barrier
Self-closing and self-latching gates around the yard
Pool safety alarms
Electrical grounding and bonding issues
Proper GFCI protection
Lights
Safe walkways around pool
Ladders and steps
Proper filtration and chemical treatment for microbes
What is the cost of a pool inspection?
A visual pool inspection will be a lower entry cost then a full in-depth leak evaluation. Our stand-alone visual pool inspections start at $149 but these can increase based on a few factors. Our stand-alone leak detection service starts at $249 but if added to a visual pool inspection can be discounted. Here are some items we will need answered to properly quote out the services:
Where the pool is located
Will the pool inspection be added to one of our other services like a home inspection or will it be stand-alone
Other features present with the pool - Separate spa, multiple pumps, waterfall features, etc.
Do you provide leak detection services?
Yes we do! This is a special add-on option to the standard visual pool inspection. A proper pool leak evaluation begins with a full pool, clean/clear water and the equipment turned off. Water in the pool pushing out of a crack, pipe separation, leak or pinhole will make a distinct noise. We will use a special scope/microphone to determine the leak's presence. Special dye testing can also be performed to isolate the leaking area. This is a specialized service that requires proper training and equipment. Let CFBI be your pool leak expert!