Central Florida Pre-Purchase Home Inspections
What is a pre-purchase home inspection?
We know our clients want to feel secure in their purchases. That's why CFBI takes extra care to ensure all issues are discovered during a home inspection. We know that a CFBI home inspection will help our clients make better-informed decisions, resulting in less surprises, more money saved and better negotiation with the seller.
Before purchasing a house in the Greater Orlando or Central Florida area, hire CFBI to evaluate the property for defects & deficiencies that could impact the value and functionality of the home. All of our inspectors will provide an extremely detailed and accurate inspection report, written on state of the art reporting software with a clean and easy to read format. The report will include digital photos of the defects and even videos of the home and its issues.
What is included in a home inspection?
A CFBI home inspection will include a NACHI-certified home inspector that will check all of the special features in your home. We use the following on every inspection (if applicable) to ensure a thorough and accurate inspection and at no additional charge to our clients:
Thermal Imaging Scan (finds moisture, electrical and insulation issues)
Drone Roof Inspections (for those hard to reach roofs)
BuildFax Permit History Report (scans permit history of home)
RecallChek Appliance Report (runs all listed appliances through CPSC recalls)
Items we inspect during a normal home inspection:
Landscaping (as it relates to structure)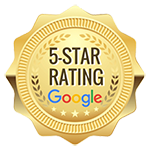 Central Florida Building Inspectors has been a staple in our Central Florida community since the 1980's and is a family-owned company. We have the experience and the expertise to ensure you will get the highest-quality home inspection available. Our inspectors will treat you like family throughout the process:
Amazing customer service & ease during the scheduling process
Our inspector's outstanding attention to detail while performing the inspection
Care and concern for the property
Clear, actionable & easy to read inspection reports
Our desire to be available for follow-up conversations after receiving reports
Easy-to-schedule inspection packages which saves you money!
You will be absolutely impressed and ready to move forward with confidence knowing if this is the right house for you!
Check out our detailed sample inspection reports!