CFBI COMMUNITY INVOLVEMENT
CFBI is a proud supporter of the Central Florida community. Each quarter, we donate a portion of our net profits to a local organization to help further their mission. We also like to volunteer our time and services to local organizations and charities.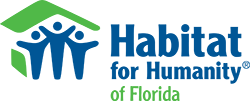 HABITAT FOR HUMANITY:
Habitat for Humanity is a nonprofit organization that helps families build and improve places to call home. We believe affordable housing plays a critical role in strong and stable communities.

Baby DJ:
The Baby DJ program began 30 years ago when its founder "Johnny Magic" was inspired to provide assistance to families of economic disadvantage in the Central Florida area.

HOMES FOR OUR TROOPS:
HFOT's mission is to build and donate specially adapted custom homes nationwide for severely injured post-9/11 Veterans, to enable them to rebuild their lives.
For your convenience, we gladly accept all major credit cards.

We perform thousands of inspections every year
Let our experience of residential and commercial property inspections in the Greater Orlando area work to your advantage!