Central Florida Termite (WDO) Inspections
What is a WDO termite inspection?
Wood Destroying Organism (WDO) inspections are a special inspection to evaluate the presence of these insects or organisms in a home or building. State-certified inspectors provide homebuyers with accurate and detailed WDI/WDO inspection reports that use simple terms and are easy to understand. All inspections will be performed by our very own State-licensed WDO inspector.
State Licensed & Certified Termite WDO Inspectors
Florida Legal Wood Destroying Organism Inspection Report
Inspectors Complete Yearly Continuing Education
Can Email WDO Report - Easy to Read - Typed Form
Digital Photos of Damage or "Evidence" of Termites or other Wood Destroying Organisms
How much does a WDO inspection cost?
Here at CFBI, we have two types of WDO termite inspection services. You can either choose to have us perform the inspection as an "add-on" to another one of our services or as a stand-alone appointment. The cost for the add-on will be slightly cheaper due to us already being at the property for another service. You can use our amazingly easy on-line quote tool to get an accurate price based on your home along with scheduling your own appointment!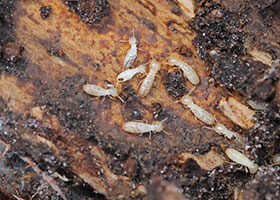 WDO (Wood Destroying Organism) Termite Inspector
What does a WDO inspector do?
A thorough Orlando Florida WDO termite inspection should take anywhere from 30-60 minutes, depending on the house size, and should cover a complete inspection of the interior, exterior, attic and crawlspace below the home, if applicable. The inspector should use a high-powered flashlight and a tool to knock on the wood components within the home. They should also be scanning the walls to check for exit holes, damage, frass and evidence of a prior swarm (wings, bodies, etc.) Termites do not see well so often times they head towards light sources such as windows, doors and light fixtures. We hone in on these areas to check for swarmers that may have landed and died there. The exterior of the home should be carefully inspected for wood decay fungi, termite activity and also conditions conducive to termite activity such as earth to wood contact, flower beds against the home, trees touching the house and stored lumber near the structure. The attic should be carefully checked for termite activity along with wood decay at the roofing structure that is related to water intrusion.