Central Florida Well Water Quality Testing
Do you know what is in your well water?
Keep your family safe from bacteria and contaminants.
We offer water testing & well inspections for drinking water & well water in the Central Florida and Orlando areas. The EPA suggests homes with well water should be tested annually for bacteria & chemical contamination.
If you are buying a home with a well, we recommend having a water quality sample collected. If you are using a FHA, VA or USDA loan, underwriting requirements necessitate a water quality sample to be collected and analyzed by an approved. We will send it in to a Certified Florida water testing laboratory for analysis. The results will typically be available within 2-3 business days but could be quicker depending on the type of water analysis. The following test packages are performed on the water samples:
Nitrates/Bacteria (minimum EPA annual suggestion)
Nitrates, Total Coliform (bacteria) & E. Coli (bacteria)
FHA / VA / USDA Required Water Test
Nitrates, Nitrites, Total Coliform (bacteria), E. Coli (bacteria) & Lead
Additional Compounds and Chemicals*
Numerous categories of water testing available including Alkalinity, Arsenic, Iron, Sulfur, Turbidity, PH (acidity), Clarity, Chlorine, Color, Copper, Hardness (Calcium), Sodium and more!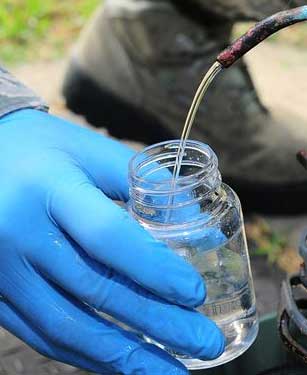 Additional testing for specific chemicals, minerals, toxins, radon & pesticides are available. Please contact us today for information & pricing on other substances. FHA water testing requirements available.